Cucumber mask is the best treatment of your skin and eyes
Do You know that the Cucumber may greatly improve the health of your skin? Here's the basic masks that all of them come with the natural cucumber for the health of your skin without any side effects.
Cucumber mask
The dermatologist &  psychological specialist, Amy Wechsler, says that the cucumber contains useful elements for the skin, such as vitamin C, caffeic acid , which are linked to lower inflammation and irritation of the skin, as it moisturizes the skin because it contains a lot of water. Cucumber peel contains on silica, which tightens sagging skin. Wechsler believes that people with very sensitive skin can use the Cucumber .

Here are ways to take care of your skin by using Cucumber .
1. Soothing puffy eyes
To make immediate treatment, put cold Cucumber slices on your eyes. They work like a small ice packs to relieve the puffy eyelids. Cucumber contain on the Flavonoid and antioxidants compounds to reduce puffy , redness, irritability ; also has a cooling effect and refreshing helps to reduce dilated blood vessels, which contributes to ease puffy eyes.
Cucumber mask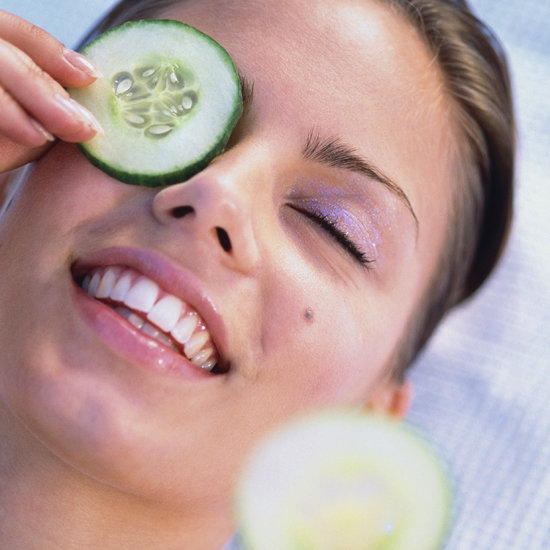 2. treatment of sunburn and skin irritation
Sun exposure may leave painful effects on your skin , especially on the forehead, nose, cheeks and chin. Cucumber contains on a lot of water and nutrients such as potassium, sulfur, vitamins A and C, what it believes soothe sunburn. Put the slices of Cucumber on your face, and lie down for at least 15 minutes, then remove slices , apply a light moisturizer cream .
Cucumber mask