Cooking
Delicious recipe of Meatballs with rice step by step
Delicious recipe of Meatballs with rice step by step
Kitchen of " What woman needs" care about the cooking section, and provides you with all easy and delicious recipes for you and for you family and friends, today we are going to provide you the yummy recipe of meatballs with rice submit to you step by step to as it is a is delicious food and easy to prepare.
Meatballs with rice
Ingredients:
1 kilo of Beef meat (with chopped onions and parsley)
3 cups of rice (boiled with salted water)
3 tbsp almond  
2 tbsp Pine
 2 tbsp Vegetable oil
3 chopped Tomatoes
chopped fine onions
crushed Garlic
quarter of a teaspoon of salt 
quarter of a teaspoon of Hill
quarter tsp of Cinnamon 
 2 tbsp of Tomato sauce
Quantity: 6 person \ people
Cooking time: 60 minutes
Meatballs with rice

How to prepare
1. mix the meat with salt and spices.
2. shape meatballs  of balls and fry by oil to be well done .
3. Prepare the tomato sauce: put two tablespoons of oil on a pan and add the onion, tomatoes, spices and left to cook.
4. Add the fried balls of meat to the tomato sauce and leave a little on the fire.
5. Add the boiled rice on the first,  and leaves 10 minutes on the fire.
6. Pour rice and meatballs dish presentation and garnish with parsley, almonds, toasted pine nuts and serve.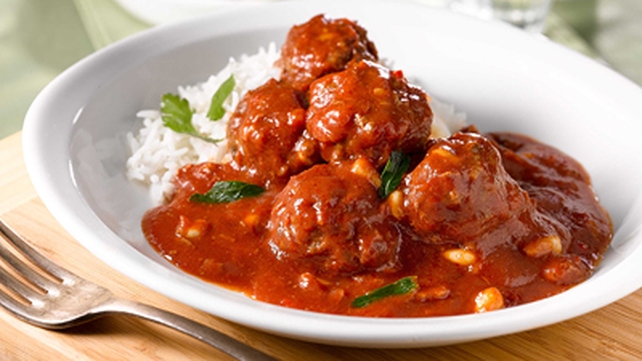 Meatballs with rice