New recipe to prepare Cheesecake with berries
Cheesecake is considered of the best desserts to a lot of people due to its lovely and delicious taste, it comes on many and variety of flavors to meet all the taste, some love it as it is, others prefer the chocolate cheesecake, while others  love fruity cheesecake , Today "What woman needs" will provide you with new lovely cheesecake with berries, watch, apply and enjoy;
Cheesecake with berries
The ingredients:
Cup or 100 g of crumble biscuit 
2 Tablespoons of melted butter 
A Tablespoon of honey
¾ cup or 185 ml liquid or cold cream
½ cup or 300 g of cream cheese
397 g  of condensed milk
Teaspoon of vanilla extract
4 teaspoons of powdered gelatin
4 tablespoons of boiling water
150 g blueberry jam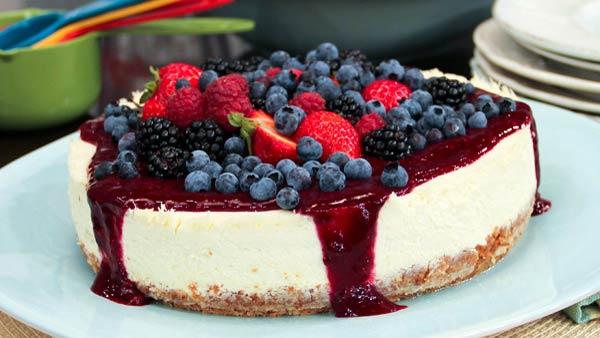 Cheesecake with berries
The preparation:
Mix biscuit crumbs, butter and honey. Rub ingredients using your fingertips. Compact biscuit mixture over cheesecake easy open tray.
Whisk the liquid fresh cream for 5-6 minutes, or until frozen and placed in the refrigerator.
Beat cheese, condensed milk and vanilla using electric whisker; until the mixture becomes smooth.
Add  the whipped cream to your cheese mixture, and mix on low speed to be blended well.
Sprinkle the gelatin over hot water, mix well to dissolve, then add to the cheese and cream mixture, stirring constantly.
Pour the cheese mixture over the base layer. And placed in the freezer for 3 hours or until frozen cheese, enjoy the delicious taste.
Cheesecake with berries