Stylish ways of floral wedding hairstyles for pretty bride
The classic bride Prefer to wear white veil on her wedding day. But the emergence of new trends of hair accessories made the veil as an irrelevant, provided an opportunity to remove it immediately after the first dance.
floral wedding hairstyles 
If you are in favor of appearing with modern character, we suggest you today to replace by natural veil with natural  crown of roses, As the flowers and roses will add you and lend you a touch of romantic and dreamy woman, a pride from the heaven, that modern style will catch all the eyes around you, to get the lovely and pretty look that you always wish, you can try one of these ways to the floral wedding hairstyle , follow these tips:

* Do not choose crown of roses, if it did not fit with your wedding dress. For example: If your dress with classic long tail,   this kind of floral accessories will not fit you more.
* Try to coordinate and match your wedding accessories and your wedding bouquet with roses or flowers of the crown of your hair.

* Sometimes, not worthy hairstyles such as chignon with a crown of roses, well be careful, and try to choose the appropriate hairstyle.
* Make-up also has its role, with roses , it's impossible to apply a little makeup , you can choose a strong makeup , so try to apply natural colors and soft lips or eyeliner for eyes makeup.
floral wedding hairstyles 

* Try the crown of roses on your hair, before the implementation the hairstyle, perhaps will not like.
View these lovely collection of floral wedding hairstyles  and Join us your opinion about this type of spring accessories.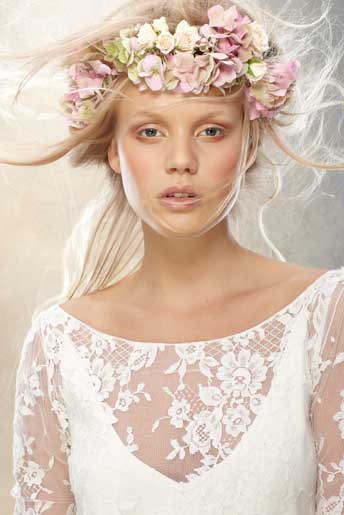 floral wedding hairstyles