Skin care
The best Natural Homemade Treatment of Dry skin
Natural Homemade Treatment of Dry skin
Dry face skin or dry skin is a type of skin that suffers from a slight or severe shortage of moisture and natural nutrients by several internal and external factors. Although the dry face is the least susceptible to skin problems such as blackheads and acne, it causes much suffering. Here are 3 effective elements could deeply moisture your dry skin naturally. namely:
Olive oil
Olive oil contains many antioxidants and healthy fatty acids useful for the skin, and also calms the skin and moisturizes dry skin. You should wipe the face and body with a small amount of oil before bathing for half an hour, then massage the body with a soft sponge, then moisturize the body with a cream suitable for the dry skin, Don't forget to add a few drops of olive oil to your moisturizing cream.

 
Honey
Honey is the best moisturizer for the dry skin, as well as containing antioxidants, as it blocks moisture inside the skin to give the skin more fresh and vitality, in addition to contain on many vitamins and minerals that promote the health of the skin.
Also see: Natural homemade masks cleanse dry skin
 
There are two ways to use honey for skin:
– Through massaging your face with honey before bathing by ten minutes, and this step is repeated daily for a week
– Prepare a mask of equal amounts of beeswax, olive oil, and natural honey by dissolving beeswax over light fire, then mix it with olive oil and honey, and then put it on the face, neck, and hands before bathing for 10 minutes.
Natural Homemade Treatment of Dry skin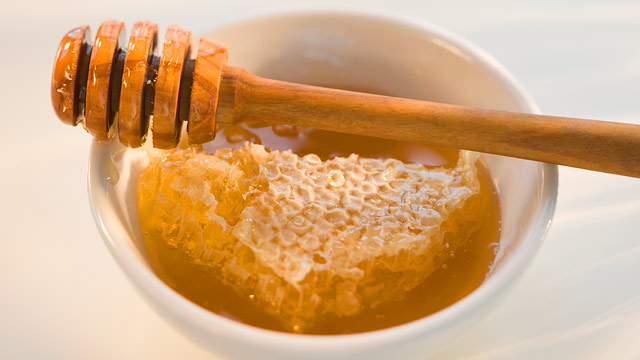 Milk
The milk is an ideal solution for dry skin. It contains antioxidants, anti-inflammatory substances that calm the skin and prevent the itching sensation in the dry skin, as well as containing lactic acid, which helps to get rid of the bacteria that are in the skin and cause dryness. use milk through massaging the skin with it, Leave it for ten minutes and then clean.
Or mix a glass of milk with a teaspoon of orange juice and a teaspoon of lemon juice, use the mixture on the face skin for 5 minutes, then rinse thoroughly.
Natural Homemade Treatment of Dry skin